Microwave Kit with Accessories
KIT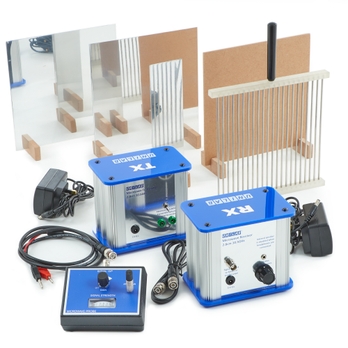 Microwave Kit with Accessories
KIT
B8R01946
Product Description
Carry out experiments in Reflection, Refraction, Interface, Diffraction, Polarisation and Communication.
The transmitter and receiver have independent plugtop power supplies, making it easy to move and arrange on a bench top to illustrate a variety of E-M properties.
Using only the transmitter and receiver, students can explore polarisation and the effect of distance on signal strength. As an analogue of the behaviour of visible light, 2.8cm microwaves enable detection and interpretation of nodes and antinodes from simple measurements of the positions of the transmitter and receiver.
The transmitted signal can be modulated using either its own 1 kHz internal modulator, or an external signal source such as a microphone. The receiver has an internal demodulator and internal speaker (with headphone socket) to listen to the signal on the other end. A BNC socket allows you to observe the received signal on an oscilloscope or meter.
The microwave battery operated detector probe allows the student to measure and plot the microwave intensity at points in space, allowing observation of standing waves and interference patterns. It features a built-in amplifier, and a BNC socket allows signal output to an oscilloscope or meter.
From the INCLUDED Accessories Kit, the reflectors can be used to explore single and double slit effects in addition to reflection. Use a single reflector and the probe receiver to demonstrate Lloyd's mirror. The hardboard, semi-silvered mirror can be used to set up the Michelson­Morley experiment ­ prove there is no luminiferous aether!