Xenon Stroboscope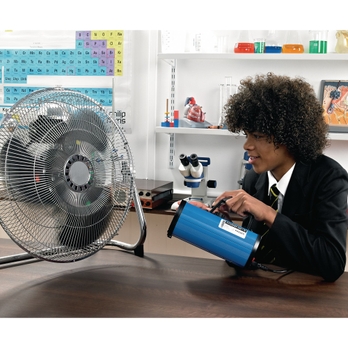 Xenon Stroboscope
B8H30359
Product Description
If something is spinning, oscillating or vibrating very fast, how can you see it? A stroboscope gives the illusion of slowing down, freezing, or even reversing the action.
This robust, light-weight stroboscope is ideal for classroom work with vibrations and waves. It features a bright xenon tube that is effective even in low ambient light, meaning complete blackout is not necessary.
Control of flash frequency is by way of intuitive controls, in the range 0.2-300Hz. Coarse adjustment can be done by the multiplier buttons and fine adjustment can be done either by up and down buttons or by analogue-style dial. An external signal can be used instead, such as a signal generator or manual trigger. The unit resets to 1Hz for safety when switched on.
A large LED display shows the frequency setting when using the internal modulator, and will display the frequency of the incoming signal if the external trigger is used. The unit features a carrying handle and is powered via a mains lead.
It is an excellent aid when doing experiments with the Vibration Generator and Accessories, or ripple tanks. Watch musical instruments deform as they're played, and measure the speed of objects as they move through space.