Bench Power Unit - Pack of 5
Pack of five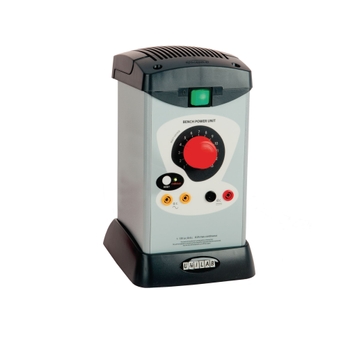 Bench Power Unit - Pack of 5
Pack of five
B8R06058
Our most popular general purpose power supply.
• Output voltage selected by rotary switch in 1V steps up to 13V
• Long switch lifetime - switch voltage safely at full load without switch contact arcing
• Continuously rated output of 8.5A, a.c. or d.c.
• Internal fan for cool-running under load
• Fully protected secondary, by high speed, resettable electronic trip
• Slow-blow fuse protection for primary
• Additional thermal trip protection for transformer
• Compliant to EN61010-2010 with certificates available on request
Recommended for general-purpose laboratory and workshop use by students.
Provides 0-13V a.c. or unsmoothed d.c. in 1V steps at a maximum current of 8.5A. Both a.c. and d.c. outputs may be used simultaneously provided the combined output does not exceed 8.5A. Internal heavy-duty relays enable voltage to be switched whilst on full load without switch-contact problems thus giving a long switch lifetime.
The internal, quiet-running fan will hardly be noticed but it reduces the already low thermal stress in the unit still further, ensuring long life of the instrument. Triple protection is provided by a resettable electronic overload trip, thermal transformer trip and slow-blow fuse on the primary.
Dimensions:
Width: 175mm.
Depth: 190mm (including cable clips 206mm).
Height: 298mm.
Mass: 4.8kg.