College Power Unit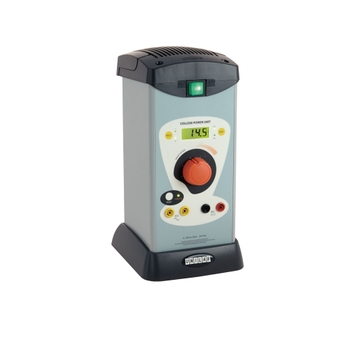 College Power Unit
B8G85483
A very popular, advanced, continuously variable power unit now with improved specification and with all the advantages of the Spacesaver case.
• Output voltage variable by rotary knob up to 25V.
• Continuously rated output of 8.5A, a.c. or d.c.
• Internal fan for cool-running.
• Digital display of voltage or current for both a.c. and d.c.
• Fully protected secondary by high speed, resettable electronic trip.
• Slow-blow fuse protection for primary.
• Additional thermal trip protection for transformer.
The College Power Unit is a versatile, high specification power unit appropriate for demonstration purposes and for use by students in advanced level courses. Provides continuously variable, 0-25V a.c. or d.c. at a maximum current of 8.5A. The d.c. supply is smoothed by an internal 2200μF capacitor. The a.c. and d.c. outputs can be used together provided the combined current does not exceed 8.5A. By depressing a button switch, a.c. or d.c. output voltages are displayed on a large LCD display. A second button enables current or voltage to be selected.An internal fan keeps temperatures down when running at full load. Triple protection is provided by a resettable electronic overload trip, thermal transformer trip and slow-blow fuse on the primary.

Dimensions:

Width: 175mm.

Depth: 190mm (including cable clips 206mm).

Height: 391mm.

Mass: 5.9kg.