EHT Power Unit
Pack of five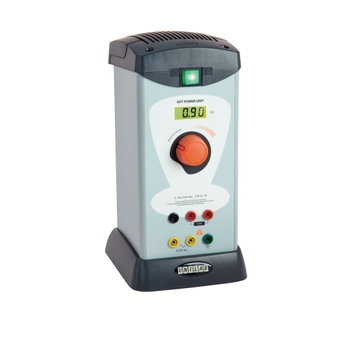 EHT Power Unit
Pack of five
B8R06063
EHT power unit suitable for electrostatics experiments and for driving vacuum devices such as the Deflection e/m Tube.• Continuously variable, 0-5kV at a maximum current of 2mA• Second EHT output with 50MΩ safety resistor• Auxiliary output, 6.3V a.c. at 3A• Digital, back-lit display indicates EHT output• Sockets are suitable for standard 4mm plugs and shrouded plugs The adjustable 5kV output is fully isolated and a backlit, digital meter monitors the output. A separate earth terminal is provided which enables the negative or positive side of the output to be earthed. Mandatory requirements limit output current to 2mA and, for this reason, there is a safety resistor between the smoothing capacitors and output. For electrostatics experiments there is a further EHT output linked by a 50MΩ resistor. This provides an EHT output with a short-circuit current of 60ÂμA. An auxiliary low voltage output is provided to drive cathode heaters, etc. Mass: 4.8kg.
This device is compliant to EN61010-2010 with certificates available on request.
Size: 175 x 190 (206mm inc. cable clips) x 341mm.