Retro Ranger PSU - Pack of 5
Pack of five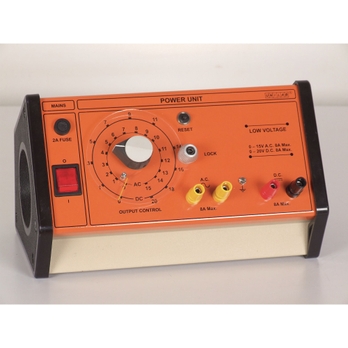 Retro Ranger PSU - Pack of 5
Pack of five
B8R05931
This is the workhorse of the Unilab Retro range, offering continuously variable a.c. up to 15 volts, and d.c. up to 20 volts, at a combined current of up to 8 amps. This unit is ideal where high power is required, such as high-power quartz lamps or for powering simultaneous experiments.
The voltage is selected by a large knob on the front panel, with dual scale around the outside to indicate a.c. and d.c. voltage setting. It can be locked at a limit by way of an adjustable transparent Perspex disc around the control knob which is secured by a hex socket. An Allen key is provided for the teacher or technician to set the desired locks.
The supply offers simultaneous a.c. and d.c. output from dedicated pairs of shrouded 4mm sockets, and the shroud can be partially unscrewed for other types of connection, such as bare wires.
The unit has two in-built layers of protection. The first is a thermal trip on the secondary circuit, with a reset button for when the problem load has been disconnected. The second is a 2A mains fuse, accessed from the front panel, on the primary circuit.