Spacesaver Microvoltmeter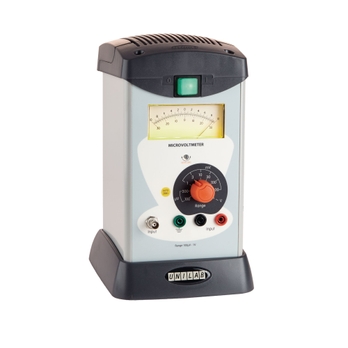 Spacesaver Microvoltmeter
B8G85768
Product Description
• An effective and robust replacement for a centre-zero galvanometer
• 10 MΩ/V on 100μV range - considerably better than a spot galvanometer
• Auto-zero facility
• Compliant to EN61010-2010 with certificates available on request
The Microvoltmeter is an effective and robust replacement for a spot galvanometer, with 9 ranges from 100μV to 1V. The input resistance of 1kΩ gives 10MΩ/V on 100μV range, which is considerably better than a spot galvanometer. The instrument has a large moving coil meter, with auto-zero facility. Input is by way of 4mm sockets or a BNC socket, for very low voltages where a shielded lead is preferred.
Suggested uses include: measurement of e.m.f.s from thermocouples, strain gauges and Hall Effect devices, electromagnetic induction measurements, etc.
Dimensions;
Mass: 2.7kg.
Size: 175 x 190 (206 inc. cable clip) x 298mm.