Spacesaver Picoammeter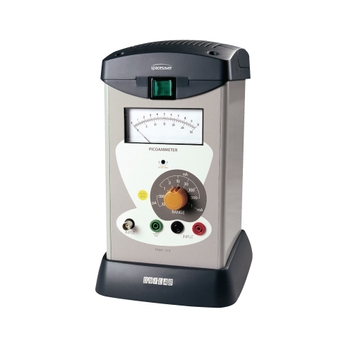 Spacesaver Picoammeter
B8G85756
Product Description
• A very popular instrument housed in the Spacesaver case
• Detect currents as low as 1pA on the 100pA range
• Input voltage up to 5kV
• BNC socket for shielded lead
• Auto-zero facility
The Picoammeter is designed to measure very small currents and has nine ranges from 100pA to 1μA, selected by rotary switch. The instrument has a large moving coil meter, with an auto-zero facility. Input is by way of 4mm sockets or a BNC socket, for very low currents where a shielded lead is preferred. Input impedance is 10MΩ and voltages up to 5kV will not damage the unit.
Suggested uses include: measurement of ionisation currents, reverse currents of silicon diodes, resistivities of wood and paper, capacitor leakage current, etc.

• This device is compliant to EN61010-2010 with certificates available on request
Dimensions: Width: 175mm.
Depth: 190mm (including cable clips: 206mm).
Height: 298mm.
Mass: 2.7kg.