SAM'S Steam Kit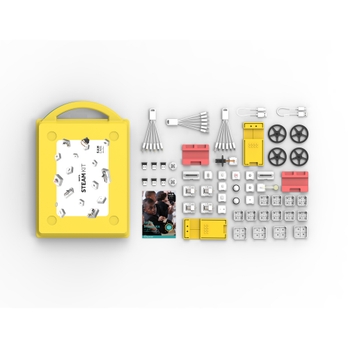 This product is not eligible for any further discount
SAM'S Steam Kit
B8R07182
Direct Delivery – up to 7 days
Product Description
SAM's STEAM kit is a great, versatile system enabling pupils to design, construct and be creative. Working hand-in-hand with international educators, SAM Labs has developed an interactive classroom set to promote experience-based learning via physical, wireless building blocks. The blocks connect to the award-winning app which has been designed for teachers and is easy-to-use and requires no setup time. The kit comes with lesson plans based on global STEAM and STEM curricula but the possible inventions are endless.
• Ideal for a group of 2-6 students
• SAM Space app tailored for educators
• Curriculum-based STEAM projects on data capture, programming logic & so much more
• Easy adaption into homework
• 50+ SAM blocks, all contained in a Gratnell's SMART case
Contents: 17 SAM Blocks: 2 SAM Buttons, 2 SAM RGB LED Lights, 1 SAM Heat Sensor, 1 SAM Proximity Sensor, 1 SAM Buzzer, 1 SAM Tilt, 1 SAM Light Sensor, 1 SAM Pressure Sensor, 2 SAM Sliders, 4 SAM DC Motors and 1 SAM Servo Motor
• Accessories: 4 Wheels, 2 Chassis, 2 Roller balls, 2 Controllers, 2 Gear wheels, 4 Large holders, 10 Small holders
• Inspiration: 1 Getting started guide with lesson plans available for download.
• Charging & connecting: 4 Bluetooth USB dongles, 2 Micro USB charging cables, 3 5-in-1 Micro USB charging cables