BBC micro:bit Go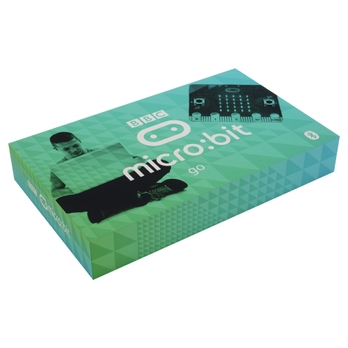 This product is not eligible for any further discount
BBC micro:bit Go
F4R06481
Product Description
The BBC micro:bit is one of the most affordable programming resources you can get, and this kit includes everything you need to get you started. With a BBC micro:bit Go, you can let your pupils' imagination run away with them to create apps, animations and games. There are also ready-made lesson plans and projects to complete on the BBC micro:bit website and in the Quick Start Guide, meaning you don't have to be a micro:bit expert or a computing specialist to begin STEM lessons.
The BBC micro:bit can be used at the beginning of a child's coding journey using the free MakeCode Editor which is a drag-and-drop style of programming. Or, for more advanced code, you can use Python which is a text editor and used in the real world of tech business.
It also has Bluetooth capability which can come in very hand if you don't have access to computers, but you do have mobile devices. Using Bluetooth connectivity, the BBC micro:bit can be programmed using a mobile device. It can also be connected using a 20-pin edge connector for standard connectors. There are several programmable features including 25 red LEDs, a motion detector and a compass.
• One of the most affordable programmable computers on the market - avoid breaking the school's bank!
• Provide pupils with the opportunity to exercise designing, engineering, programming and evaluating skills.
• Utilise the many thousands of free resources, project ideas and lesson plans on the internet available for BBC micro:bit, and teach coding with confidence.
• Compatible with Raspberry Pi - used together, project potential is unlimited.
• Resource your coding lesson with everything you need to get started including the ability to recharge your micro:bit and Quick Start Guide.
What's in the box?
1 x BBC micro:bit
1 x USB cable
1 x battery holder
2 x AAA battery
1 x Quick Start Guide