CodeBug™ Pack of 5
Pack of five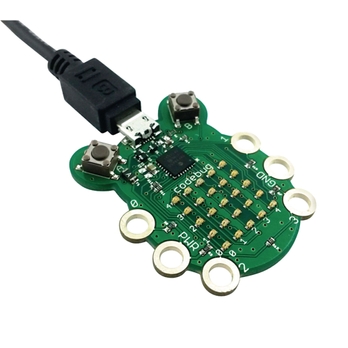 This product is not eligible for any further discount
CodeBug™ Pack of 5
Pack of five
B8R06479
Direct Delivery – up to 2 weeks
Product Description
Free accompanying activity resources available online, a simple, intuitive interface that allows students to begin coding straightaway and the ability to prepare students with skills needed for a 21st Century workforce: what's not to love about CodeBug™?
CodeBug is the perfect programming resource for students and teachers setting out on their coding journey. The simple but creative design makes coding CodeBug easy and exciting. Students just plug Codebug into their computer using the micro USB lead (included) and register with the CodeBug website to access the programming interface. The drag-and-drop style programming language is similar to Scratch and makes for an intuitive experience for students.
The benefits of teaching programming go beyond preparing students for a future in the software industry. Hone skills in creative thinking, complex problem-solving and organisation of thoughts, as well as developing an all-important growth mindset. The CodeBug pack of 5 means that you can teach a coding class in small groups, allowing development in communication and negotiation as well.
• Challenge students to coding challenges that involve designing and coding fortune tellers, board games, steady-hand games, scrolling name badges and even dance mats circa 2005!
• Hone a wide range of skills including complex problem solving, reasoning and programming: helpful for futures in the 21st Century.
• Teach coding without the need for specialist computing knowledge or the need for lengthy planning with access to free online resources and activities designed to be used with CodeBug.
What's in the box?
5 x CodeBug
5 x micro USB lead