CodeBug™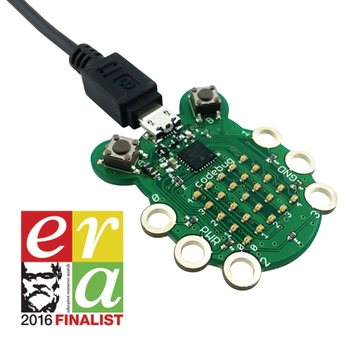 This product is not eligible for any further discount
CodeBug™
B8R06477
Direct Delivery – up to 2 weeks
Inspire the future computer programmers in your classroom with CodeBug™! This simple and effective programming resource is easy to set up and use, even for those who aren't computing specialists.
Teaching coding has many benefits beyond a future in the software industry; using CodeBug develops students' problem-solving skills, logical thinking and perseverance in class. CodeBug is perfect for students (and teachers!) at the beginning of their coding journey. The CodeBug™ itself has a 5 x 5 red LED grid that can be coded to communicate messages as well as 6 touch sensitive input and output pads.
CodeBug can be programmed using the online interface provided by the CodeBug website. Simply register and begin using the drag-and-drop style of programming, similar to Scratch. The website also contains a wealth of activity guides that can be used with students to hone their coding and computational thinking skills.
• Use this affordable programming resource to teach a wealth of 21st Century living skills like problem solving and reasoning.
• Develop coding skills without needing specialist coding knowledge using the simple drag-and-drop online interface.
• Get students excited about a future in the software industry and challenge them to hone a growth mindset.
• Get started quickly with a simple micro USB connector for coding and power, and use with any computer, (compatible with Windows, Mac and Linux,) or connect to Raspberry Pi resources.