Electro Fashion E-Textiles Kit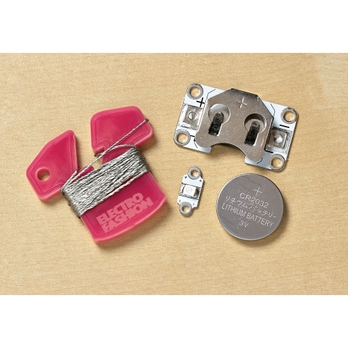 Electro Fashion E-Textiles Kit
B8R05752
Product Description
Introduce lighting effects to textiles designs with this kit and demonstrate electricity in a fun and creative way. Soldering is not required, instead conductive thread is used to connect the battery and LEDs. The kit includes:
2m of conductive thread (which is a thread that can be used like cotton thread but conducts electricity like a wire)
Our own custom designed Sewable Coin Cell Holder
One coin cell battery,
Two ultra slim, pre-mounted, easy sew E-Textile LEDs.
Please note; the product is not washable/dry cleanable and can be used on textile applications which are ornamental, not intended to be washed/dry cleaned or alternatively use on removable textile appliques for garments/soft furnishings/fashion accessories.