Mindstorms Ev3coreset And Softwarebundle
Pack of three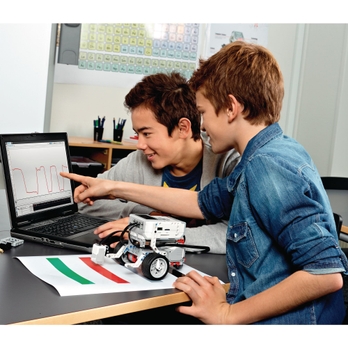 Mindstorms Ev3coreset And Softwarebundle
Pack of three
B8R07746
Product Description
This set contains everything you need to start teaching STEM and computer science using the exciting LEGO MINDSTORMS concept.
It offers full teacher support, including STEM and computing teaching materials, and a comprehensive eLearning program.
The system includes the Intelligent EV3 Brick, a compact and powerful programmable computer that makes it possible to control motors and collect sensor feedback using the intuitive icon-based programming and data logging software that is delivered with the set.
• The set is delivered in a sturdy storage bin with a sorting tray,
• three Servo Motors, five Sensors (Gyro, Ultrasonic, Color and 2x Touch),
• A Rechargeable Battery, connecting cables, and Building Instructions.
Includes: software, Design Engineering Projects curriculum, EV3 Computing Scheme of Work and e-learning.