Touch Board™ Starter Kit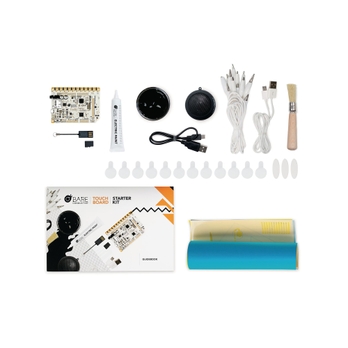 Touch Board™ Starter Kit
B8R05967
Product Description
Connect any surface, object or space to the digital world. The Touch Board™ Starter Kit lets you change your environment by turning surfaces, objects or spaces into sensors. In this box you'll find a Touch Board™, electric paint, essential components and a guidebook featuring a range of project ideas, with step-by-step instructions. The Touch Board™ is pre-programmed to trigger MP3 tracks so no programming or electronics experience is required.
The Touch Board™ Starter Kit comes ready to plug and play, and is supported by a growing range of tutorials, visual guides, and project examples online. Whether you're an absolute beginner, a programming pro or looking for a great gift for a tinkerer, this kit will let you start making interactive projects in no time. Children under 12 years of age must be supervised by an adult whilst using this product.
Contains: 1 x Touch Board™, 1 x electric paint 1ml pen, 1 x electric paint 50ml jar, 1 x guidebook, 1 x microSD card, 1 x microSD card reader, 1 x micro USB cable, 1 x mini speaker, 12 x alligator clips, 1 x house stencil, 1 x stencil brush, 12 x sticky tabs, 3 x hook & loop stickers and 2 x paper cutouts.