Optika B-292PLi Binocular Microscope LED 1000x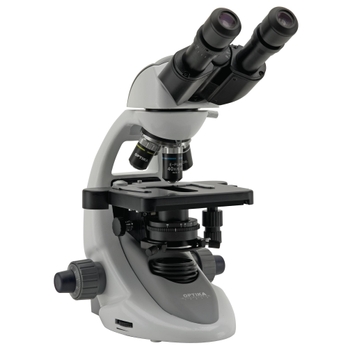 Optika B-292PLi Binocular Microscope LED 1000x
B8R05565
Product Description
This instrument is great for routine applications. Dye-cast frame, with high stability and ergonomic design for transmitted light observation.
Full Specification:
• Total magnification: 40x, 100x, 400x, 1000x
• Eyepieces: Wide field WF10x/20
• Head: Binocular, 360° rotating, with 30° inclined eyepiece tube. Diopter adjustment on left eyepiece Interpupillary adjustment 48-75mm
• Nosepiece: Quadruple revolving nosepiece, rotation on ball bearings
• Objectives: Anti-fungal treated infinity-corrected E-Plan objectives
 4x, A.N. 0.10, W.D. 18mm
 10x, A.N. 0.25, W.D. 7mm
 40x, A.N. 0.65, W.D. 0.53mm
 100x, A.N. 1.25, W.D. 0.13mm (oil immersion)
• Stage: Double layer with mechanical sliding stage with specimen holder, 150 x 1133mm. X-Y movement range 75 x 50mm. Belt drive in X direction. Vernier scale on the two axes, accuracy 0.1mm
• Focussing: Coaxial coarse and fine focusing mechanism (graduated 0.002mm) with upper stop. Adjustable tension of coarse focussing knob
• Condenser: Abbe condenser, N.A. 1.25, sliding-in, centre-able, up-down adjustment by rack and pinion.
• Illumination: 3.6W X-LED with adjustable intensity
• LED Details: 3.6W (comparable to a 30-35W halogen bulb), 6300K colour temperature, average life time approx. 50000h
• Observation Mode: Brightfield
• Dimensions: H370 x W235 x D290mm
• Weight: 6.5kg
• Voltage: External power supply 100/240V, 50/60Hz, output 6V D.C. 1A. Max. required power 7W
• Accessories included: Power supply, dust cover and instructions