Orbit Proview DNA Model Kit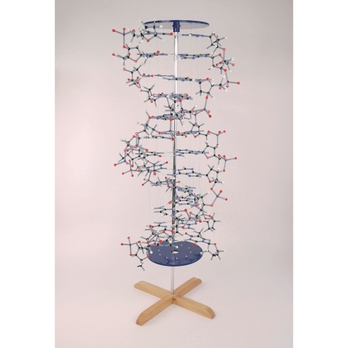 Orbit Proview DNA Model Kit
B8R07024
Product Description
This detailed, large-scale model helps pupils to understand the chemistry and structure of DNA enabling group viewing and demonstration.
Engages student as they work together to create the sub assemblies and then fit the model together.
Build and study the compostion of the subassemblies: Thymine-Adenine; Cytosine-Guanine, sugar rings and phosphate groups.
Each atom is colour-coded with the correct binding angle. Understand the different types of bonding, different colours indicate covalent or hydrogen bonding.
Easy construction; attach the subassemblies onto pre-assembled atom pieces on the nylon wires for a spectacular end result. Height: 850mm (3ft) Width: 350mm (1⅓ft).
Kit includes:
• 750 atoms
• 850 bonding straws
• Support plates for hanging with wires and joining pieces fixed ready for assembly
• Assembly instructions and worksheet examining the structure of DNA and the mechanism of transcription