DNA Fingerprinting Using Restriction Enzymes Kit
KIT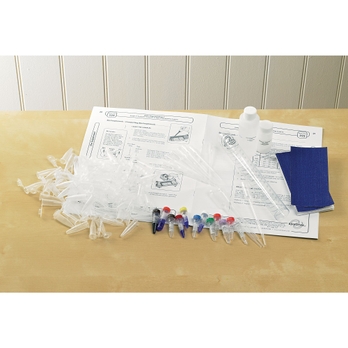 DNA Fingerprinting Using Restriction Enzymes Kit
KIT
B8R03278
Direct Delivery – up to 4 weeks
Product Description
Teach your students about restriction enzyme digests in the context of Forensic Science. Your students will cut DNA with restriction enzymes and then compare the &quotBarcode&quot pattern of the crime scene DNA versus that of the suspects using DNA electrophoresis. For 6 lab groups, complete in 90 minutes.
Kit Includes:
• DNA Samples
• DNA Ladder
• Dryzymes (Eco RI and Hind III)
• Aragose
• Practice Gel Loading Solution
• Loading Dye
• Electrophoresis Buffer
• Microtipped Transfer Pipettes and Gel Stain
You will also need micropipette to measure between 5 and 50μL (or 5,10,15μL fixed volume mini pipettes), tips, a water bath, electrophoresis tanks and a power supply.