BEK - Basic Electricity Kit
KIT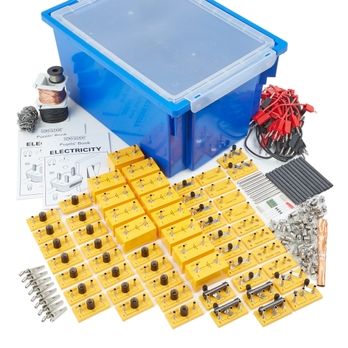 BEK - Basic Electricity Kit
KIT
B8L25835
The Basic Electricity Kit has been designed as a low-cost, attractive and flexible alternative to the circuit-board approach to pupil investigations into simple circuits. Each component such as a switch, rheostat, bulb holder etc, is mounted on its own individual plastic panel with 4mm sockets. The panels are then formed into circuits by connecting them together using 4mm stackable leads.
Because this is real circuit making, the equipment will have uses throughout secondary school science curriculum.
Each kit is supplied in two polystyrene trays which keep the units organised.
Contents:
• 12 x cell holders (without cells)
• 20 x bulb holders
• 40 x bulbs (4.5V, 0.3A)
• 12 x 4mm leads red 10cm
• 12 x 4mm leads black 10cm
• 4 x 4mm leads red 25cm
• 4 x 4mm leads black 25cm
• 4 x rheostat units
• 4 x universal clips
• 8 x crocodile clips
• 4 x silicon diodes
• 4 x fixed resistors
• 8 x push switches
• 4 x changeover switches
• 4 x electrode holders
• 8 x soft iron rods
• 12 x carbon rods
• 50m copper wire bare 20 swg
• 50g Eureka wire bare 34swg
• 50m insulated copper wire
• 1 x sheet copper foil 150 X 150mm
• 1 x pack steel wool
• 1 x teacher's book
• 2 x pupils' books
• 2 x polystyrene storage trays